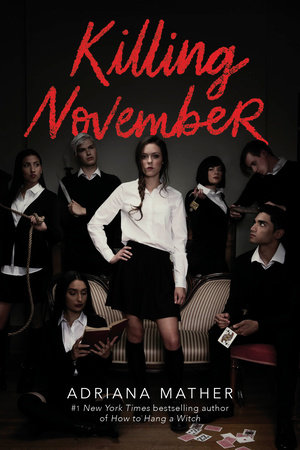 Killing November
by
Adriana Mather
Genres:
Mystery
,
Suspense
,
Young Adult
Publication Date:
March 26th 2019 by
Knopf Books for Young Readers
Format:
ARC
Goodreads
|
Amazon
Source:
Publisher via Mail
It's a school completely off the grid, hidden by dense forest and surrounded by traps. There's no electricity, no internet, and an eye-for-an-eye punishment system. Classes include everything from Knife-Throwing and Poisons to the Art of Deception and Historical Analysis. And all of the students are children of the world's most elite strategists—training to become assassins, counselors, spies, and master impersonators. Into this world walks November Adley, who quickly discovers that friends are few in a school where personal revelations are discouraged and competition is everything. When another student is murdered, all eyes turn to November, who must figure out exactly how she fits into the school's bizarre strategy games before she is found guilty of the crime…or becomes the killer's next victim.
I received this book for free in exchange for an honest review. This does not affect my opinion of the book or the content of my review.
Before Killing November, I hadn't read anything by Adriana Mather, but now I'm looking forward to more!
This story gives a different and refreshing take to YA Mystery involving a school to train spies and assassins. I was intrigued from the start, mainly because there aren't many details concerning November nor the school she's attending. She doesn't even know anything about the school, her family, the politics surrounding the students, etc. Since November woke up at the school, with no recollection of how she get there, she's instantly wary of everyone and gets on the wrong foot with a lot of the students. I have to admit, the story dragged on a little bit and at times, I wanted to stop reading, but I'm glad I didn't. The plot and the characters are quite unique. I loved how the author introduced every character in the story from the beginning. True, I had no idea what their role would be, which is what made the story more interesting.
The majority of the book is spent learning everything about the school and the politics surrounding it, which is needed to understand a lot of what happens, especially the killings. November, along with the few friends she made, start investigating who could be killing and what is their motive. Once the pace of the book started picking up, I couldn't stop reading! Mather's writing style is so descriptive and simple that I felt like I was watching a movie in my head. I also loved the witty conversations, the humor, all the sass and sarcasm coming from November and Ash.
Overall, this was a surprisingly good YA Mystery! I loved the history that Mather added to the story. It kept things moving and super interesting with all the clues it would add to the story. I can't wait for the second book! While it didn't really end in a cliff-hanger, it did left an opening to find out more about what is going on with this academy, politics, history and the people involved with it.
Genesis is a 24-year-old Puerto Rican girl who moved in 2018 to Tennessee. She's obsessed with Instagram (@whisperingchapters | @genesissheli) and coffee shops. When she's not reading or on social media, she can be found eating, being with her husband and/or hanging out with friends.
Related Posts